Rollball 2x8 PLC Fiber Splitter, Standard LGX Cassette, SC/APC



Description
•
Planar lightwave circuit (PLC) splitter is a type of optical power management device that is fabricated using silica optical waveguide technology to distribute optical signals from Central Office (CO) to multiple premise locations.
•
The standard LGX mental box housing provides a plug-and-play method for integration in the network, which eliminates any risks during installation. It eliminates the need for splicing machines on the field and there is no need for skilled personnel for deployement.
•
Rollball provides whole series of 1xN and 2xN splitter products that are tailored for specific applications. All products meet GR-1209-CORE and GR-1221-CORErequirements.

Features
•
Item type

:

2*8 LGX Box PLC splitter
•
C
onnector
type: LC/UPC, LC/APC, SC/UPC, SC/APC optinal
•
Good channel-to-channel Uniformity
•
High Polarization Extinction Ratio
•
Low Input Polarization Sensitivity,
PDL≤0.2dB
•
Operating bandwidth: 1260- 1650nm
•
Compact design, Custom and Rugged Packaging Available
•
Operating temperature : – 40 to 85°C
•
High reliability and stability, Telecordia GR-1221/1209
compliant
Applications
• Optical Signal Distribution
• Data Communications
• Lan and CATV System
• FTTX Deployment
• FTTH Network
•
Passive Optical Networks (PON)
•
Measuring System and Laser System
•
DWDM and CWDM Systems
I
tem specifications
Splitter Type

LGX PLC Splitter

Port Configutation

2x8

Wavelength

1260-1650nm

Return Loss

>=55dB

Insertion Loss

<10.5

dB

Connector

Type

LC/SC optional

PDL

<=0.3dB

Compliance

Telecordia GR-1221 and GR-1209

Operating Temperature

-2

0°C~ +70°C

Storage Temperature

-40°C~ +80°C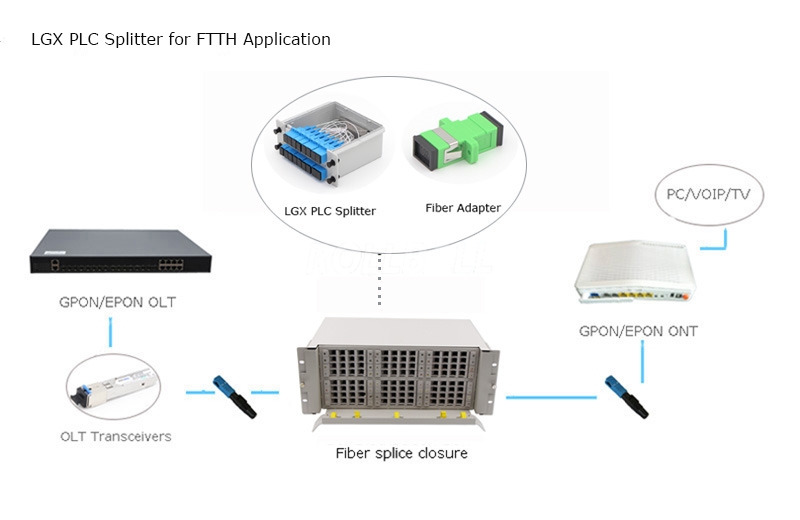 ​​​​