SM-SCU-SCU-DX
All cables are 100% optically tested for insertion loss to ensure high quality. Compliant with IEEE 802.3z standards for Fast Ethernet and Gigabit Ethernet applications.


Rollball 9/125μm SMF Duplex 2.0mm PVC Fiber Optic Patch Cable


Item Specifications

Connector

SC-SC

Polish

UPC to UPC

Fiber Mode

OS2 9/125

μm SM

Jacket OD

2.0mm

Fiber type

Duplex

Wavelength

1310/1550nm

Cable Length

1m

Jacket Color

Yellow

Cable Jacket

PVC

Repeatability

<=0.1dB

Insertion Loss

<=0.3dB

Durability

<=0.2dB(1000 Times mating)

Return Loss

>=50dB

Operate Temperature

-40~75°C


Features

Ø Low insertion
Ø High return loss
Ø IEC,JIS,TELCORDIA-326 compliance
Ø ROHS compliance
Ø compact design

Applications

Ø CATV;
Ø FTTx+LAN;
Ø Telecommunication networks;
Ø Data networks

Description
Ø The 9/125um single mode fiber patch cable meets RoHS compliant, and all cables are 100% optically tested for insertion loss to ensure high quality, it is very cost-effective for network cabling.
Ø Rollball supply various kinds of Single Mode and Multimode Fiber Optic Loopback Cables, which are with different connectors including ST, SC, FC, LC, MU, MTRJ etc. Each cable is functionally tested before shipping and is covered by a lifetime warranty.

How to choose correctly the cable jacket: PVC, LSZH or OFNP?
Fiber patch cables are now widely used for indoor applications like buildings, factories, office parks, campuses and so on. Whether you choose PVC, LSZH or OFNP jacket depends on where you're going to run the cable.
The features of PVC, LSZH and OFNP Jacket are as follows:
Ø PVC cable resistant to oxidation and degradation, it is commonly used for horizontal runs from the wiring center.
Ø LSZH cable has a special flam-retardant coating, it is between floors in a building.
Ø OFNP cable is space within the building created by building components, design for the movement of air. It is usually work for vertical runs beween floors.

How to Choose The Right Fiber Optic Cable Type on OM3 or OM4?
The difference of OM4 and OM3 fiber mode as the following
Ø OM4 was developed specifically for VSCEL laser transmission and allows 10 Gig / second link distances of up to 550 Meters (compared to 300M with OM3).
Ø The effective modal bandwidth for OM4 is more than double that of OM3.
Ø For OM4 patch cable it is 4700 MHz.km while for OM3 it is 2000 MHz.km.

Fiber Optic Patch Cables
Rollball offers high quality fiber cable assemblies such as Patch Cords, Pigtails, Breakout Cables etc. All of our fiber cables can be ordered as Single Mode 9/125, Multimode 62.5/125 OM1, Multimode 50/125 OM2 and Multimode 10 Gig 50/125 OM3/OM4 fibers.
Rollball also provides a full set of OEM services, such as fiber connector, length, color, fiber grade, specification, material, package etc.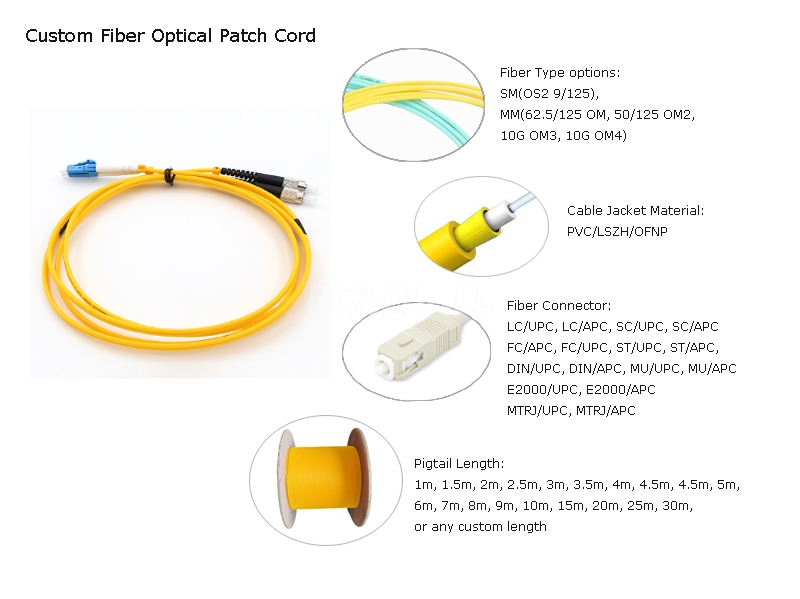 Specification
Type
Standard,Master
Style
LC,SC,ST,FC.MU,DIN,D4,MPO, SC/APC,FC/APC,LC/APC.MU/APC
Fiber
Singlemode/Multimode
50/125, 62.5/125 (Multimode) OM2&OM1
50/125, 10G (Multimode) OM3
Cable
Simplex, Duplex
Φ3.0mm, Φ2.0mm, Φ0.9mm
PVC or LSZH
Polishing Manner
UPC,SPC,APC (8°& 6°)
Insertion Loss
≤ 0.1dB (For Singlemode Master)
≤ 0.25dB (For Singlemode Standard)
≤ 0.25dB (For Multimode)
Tested by JDS RM 3750
Return Loss
UPC ≥ 50dB
(Singlemode)
SPC ≥ 55dB
APC ≥ 60dB (typ.65dB)
Tested by JDS RM3750
Repeatability
±0.1dB
Operating temperature
-400C to 850C
Geometry Requirement
Ferrule Endface Radius
( Singlemode)
7mm ≤ R ≤ 12mm (For APC)
10mm ≤ R ≤ 25mm (For Standard)
Apex Offset ≤ 30 μm (For Master)
Apex Offset ≤ 50 μm (For Standard)
Undercut -50nm ≤ U ≤ 50nm
Tested by DORC ZX-1
Boot
Connector
Fiber Type
Fiber count
Ferrule
Cable Length
0.9mm 2.0mm 3.0mm
LC
FC
SC
ST
MU
D4
MTRJ
MPO
DIN
9/125um SM
62.5/125um OM1 MM
50/125um OM2 MM
OM3
OM4
Simplex
Duplex
Multi-fiber
Ribbon

PC
APC
UPC
1M
1.5M
2M
2.5M
3M
3.5M
4M
4.5M
5M
7M
10M
Customized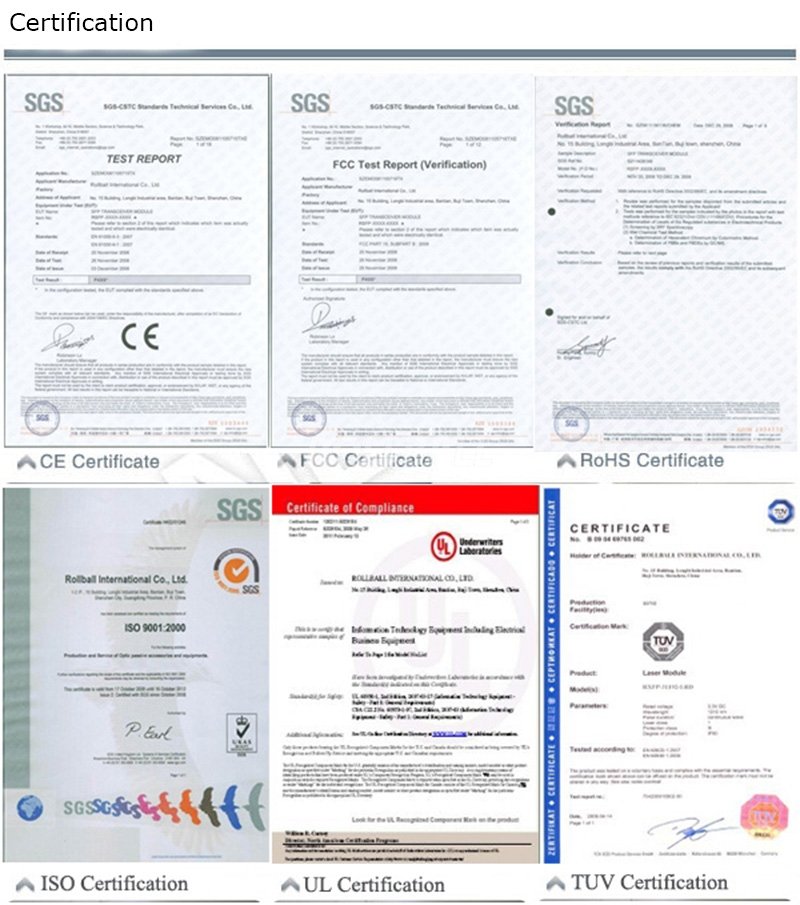 Customer Note
OEM & Customs
Partnering with a variety of world class OEM manufacturers over 8 years, Rollball is able to provide customized and cost-effective Ethernet solutions of high quality for all needs and specifications, including Optical design, Mechanical design, Printed Circuit Board (PCB) layout and Electrical design, Software & Firmware design, Integrated assembly, Specific labels, etc. Since put in market, our products are highly praised and trusted by domestic and international customers for its excellent performance and reasonable price. Rollball has been expanding rapidly across the world and is becoming the leading provider of the optical communication industry. If you are interested in our products, please feel free to contact us sales@sfpoutlet.com.
Special Notes for Brazilian Customers:
Brazilian customers should include the VAT(Value Added Tax) number in the order information. Orders may be delayed or disregarded if we could not obtain your VAT number.
The VAT number may refer to:
Ø CNPJ(for company)
Please note: The consignee must be company, must provide company information for delivery if you provide CNPJ.
Ø CPF(for individual)
Shipping
We are happy to ship to all countries worldwide. Our current primary carrier is DHL and Postal packet. And we have a good price with DHL. If you want us to change the shipment, please contact us first. We will try to find the best shipping way according to different location to save your freight.
If you have a special shipping request, or you want us to write lower value on the commercial invoice, please feel free to contact us in advance, and we would be happy to accommodate you. In order to get the items smoothly, please confirm your destination address and contact number correctly. Thanks!
Packing & Labeling
This easy to take and well-protected transceiver package has been labeled and marked by Rollball as default. Customized label or package solutions are available as request.
Warranty&Guarranty:
Warranty:
Ø 5 Years for Cables
Ø 3 Years for Module Transcerivers
If defective products are caused by inferior raw materials or the lack of manufacturing process. We will provide replacement service and bear the return freight.
Please Note:
Ø This warranty right only lies in the initial purchaser of our products and is not transferable.
Ø Before returning item, please make sure you get our (the seller's) return address and contact us first.
Ø The warranty period after replacement will be either the remaining warranty period of the original product or 90 days after replacement, depending on the longer period.
Money-Back Guaranty:
We will refund you for items sending back within 30 days after you get the parcel for any reason. A full refund(shipping fees excluded) will be given if items are returned in their original condition.
Please note:
Ø Items which are damaged or have components lost are not refundable.
Ø Buyers are obliged to return items with proper packing.
On receiving items, we will refund you immediately.